Rossiters Diesel Tuning
Rossiters have over 20 years experience in diesel tuning. We were the first company to launch the plug in style turbo diesel tuning system in the UK in the mid 90's. Others then jumped on the band wagon, but none have the same years of experience of this type of tuning. We are now UK distributors for AC Schnitzer diesel tuning for BMWs, and dealers for Steinbauer tuning which is available for almost every modern diesel vehicle, including cars, light and heavy commercials and agricultural machinery. Both AC Schnitzer and Steinbauer offer astonishing improvements in both performance and economy, with the great backup and depth of experience you can only get at Rossiters. Call us on 01485 540000 for more information.
AC Schnitzer
AC Schnitzer is the premium diesel tuning solution for BMW and MINI. Combined with extraordinary research and development carried out at the Nürburgring, AC Schnitzer are the only tuning company offer a 2 year warranty on the engine and drivetrain, to run concurrently with the manufacturer's warranty. In other words, if there is a problem with the tuned engine and the manufacturer decides not to cover it under warranty, AC Schnitzer will step in and make the repairs. This situation is incredibly rare, but the AC Schnitzer warranty allows you to fully enjoy your tuned engine with complete peace of mind.
A 20% increase in power is typical and, in some cases, a slight improvement in fuel consumption is possible.
Prices start at around £2000 + fitting.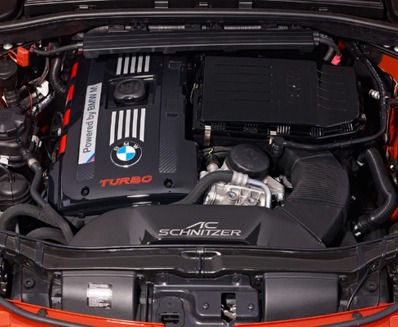 Steinbauer
Steinbauer diesel tuning is the cost-effective but high performance solution for all modern diesel (and some petrol) turbo engines. Unlike some of the cheaper engine tuning "boxes" available elsewhere, which simply increase fuel pressure to produce power gains, Steinbauer is a well-researched and developed system that integrates with your vehicle's electronics perfectly. This level of control prevents unwanted side effects such as engine management lights, black smoke or excessive fuel consumption from over-fuelling.
As with AC Schnitzer a 20% increase in power is typical and a slight increase in MPG is possible.
Prices from £399 – £1399 +vat, please call for a quote.
Fitting is available from £80 +vat.